ice cream
As Maplewood City is a small town, there may not be a lot of tourist attractions, but the Eaton family loves to visit a small local ice cream parlor called "Sweet Delights." They make the most delicious homemade ice cream flavors, and it's a perfect spot for the Eaton family to enjoy a sweet treat on a warm summer day.
"Sweet Delights" is a cozy ice cream parlor / bakery located in the heart of Maplewood City. The bakery is known for its delectable assortment of pastries, cakes, and cookies, all made with the finest ingredients. The interior of the bakery is warm and welcoming, with a rustic feel that transports customers to a simpler time. The aroma of freshly baked treats fills the air, making it hard to resist indulging in one (or more) of their sweet delights. The bakery is owned and operated by a mother-daughter duo who are passionate about baking and take pride in creating delicious treats that satisfy the sweet tooth of their customers.
The owners of Sweet Delights are a mother-daughter duo, Linda and Samantha Johnson. Linda has always had a passion for baking and passed down her love for sweet treats to her daughter Samantha, who has a degree in culinary arts. Together, they decided to open Sweet Delights to share their delicious creations with the community. They are known for their signature cupcakes and specialty cakes for all occasions, but also offer a variety of cookies, pastries, and candies. The cozy atmosphere of the bakery, combined with the warm personalities of Linda and Samantha, make Sweet Delights a beloved spot for locals and visitors alike.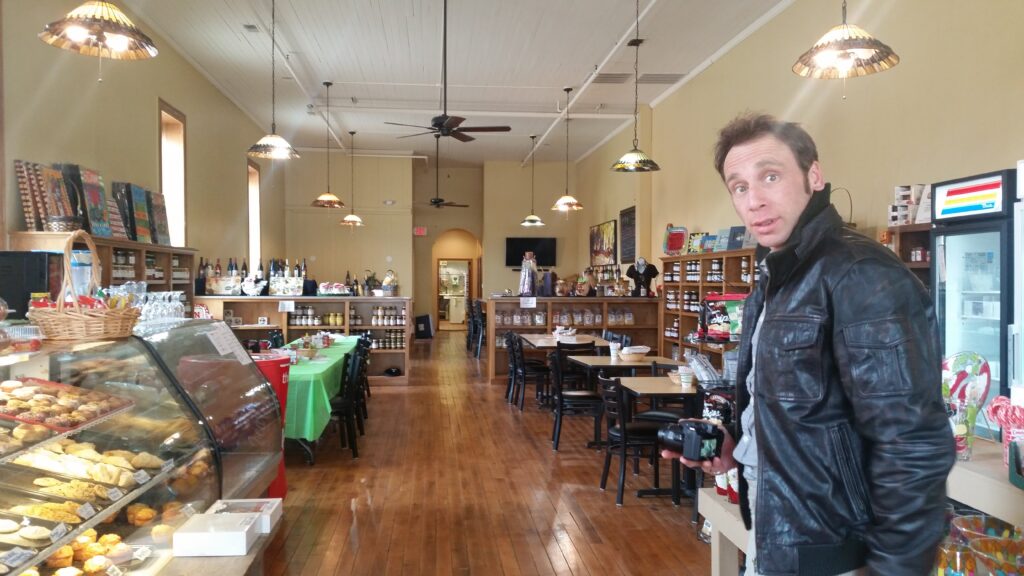 The mother-daughter duo who own Sweet Delights also have a passion for making homemade ice cream. They started experimenting with flavors in their kitchen and eventually began selling their creations in the shop. Some of their most popular flavors include "Caramel Swirl," "Mint Chocolate Chip," and "Strawberry Cheesecake." Customers can enjoy their ice cream in a cone, cup, or as a topping on one of Sweet Delights' famous homemade waffles. The owners take pride in using only the freshest ingredients and often source local dairy products to support nearby farmers.
They also are coffee enthusiasts and have recently expanded their business to include a coffee bar within the ice cream shop. They source their coffee beans from local roasters and offer a variety of espresso-based drinks, pour-over coffee, and iced coffee. The cozy and inviting atmosphere of the shop, coupled with the aroma of freshly brewed coffee, has made it a favorite spot for locals to catch up over a cup of coffee and a scoop of ice cream.
The local roasters of Maplewood City are the father-son duo of Jack and Ben Cooper, who run Cooper's Coffee Roasters. They source the finest coffee beans from around the world and roast them to perfection in small batches to ensure the highest quality and freshest taste. They take pride in their craft and have won numerous awards for their unique blends and flavors.
"Cooper's Coffee", supply their freshly roasted coffee beans to several cafes and restaurants in Maplewood City, including Sweet Delights. They often conduct coffee tasting events at their roastery and educate their customers on the different coffee flavors and brewing techniques. Their coffee has become a popular choice among the locals and visitors of Maplewood City.
Jack and Ben Cooper's coffee shop opens its doors only on odd-numbered days of the month, but only during a full moon. The opening time is determined by the phase of the moon and the alignment of the planets, and it changes every day. Customers have to check the shop's website for the exact opening time, which is always written in code and requires solving a riddle or puzzle to decipher. The shop remains open for exactly 23 minutes, and customers are only allowed to order their coffee in a whisper. If anyone speaks above a whisper, the shop immediately closes and won't open for another month. Additionally, the shop's location changes every day, and customers have to solve a scavenger hunt to find it. Despite these oddities, Jack and Ben Cooper's coffee is so delicious that people come from all over the world just to taste it.